Image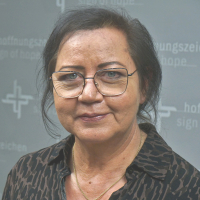 Contact person
Eva Amann
Donor Service
+49 7531 9450-160
Many people in this world are in a bad distress. Natural disasters can destroy entire livelihoods in seconds. Starving children are delighted about a meal, persecuted people about protection, freezing families about blankets. Support our work with a gift donation and become a giver of hope.
Make a statement - give hope
There are so many celebrations in the year: Birthdays, weddings, anniversaries, Easter and Christmas. Why not give something different, something "special" as a gift? Help people in need around the world by donating to Sign of Hope and presenting the gift recipient with a certificate for this donation. In this way, you delight a loved one with a beautiful gesture and at the same time give the world something it desperately needs: Hope.
Sign of Hope is one of the first bearers of the donation certificate introduced in 2017. It proves that the organisation handles donations responsibly and transparently.
How you and the gift recipient can become givers of hope
Donate via our donation form.
Configure your personal certificate there in the gift donation section.
You will receive your donation certificate immediately by email in PDF format.
The gift certificate
Your name, the amount of the donation and the name of the recipient are already noted on the gift certificate through your personalisation. You can then choose your desired motif from three images. Feel free to preview your gift certificate before making your donation! And after receiving the certificate, simply forward it to a loved one with a nice message or print it out beforehand.
With your joint good deed in favor of needy people, you both make the world a little bit better - thank you!